Your Complete Fireplace and Stove Gallery
See a Sneak Peek of Our 4,800 Square Foot Showroom
FOR FIREPLACE INFORMATION YOU CAN TRUST...
Have you been racking your brain trying to figure out.... What's the best gas fireplace... vented or ventless? Vented up or vented out? Open front or sealed glass? Designed for efficiency or designed for "looks"? How about woodburning... catalytic or non-catalytic? Masonry or pre-fab? The questions can be mind-boggling and the various answers you've received can be conflicting.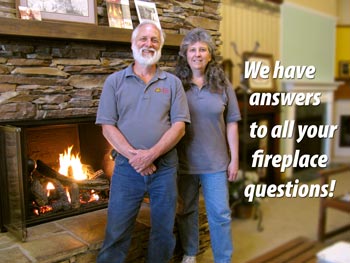 When you need explanations that make sense, and sound, accurate fireplace advice you can trust, ask "MA & PA FIREPLACE," Fran and Bob Marengo, owners of Custom Fireplaces & More in Cookeville, Tennessee. Call, e-mail, or best yet, if you are in middle Tennessee, go see MA & PA!
70 YEARS EXPERIENCE
With 70 years of hearth industry experience between them, Fran and Bob enjoy explaining the advantages (and any disadvantages) and the differences between the various fireplace products available. What's unusual in today's business world is that Fran and Bob are willing to take all the time you need to help you sort through all your questions.
HUGE SELECTION & MANY WORKING DISPLAYS!
Serving Middle Tennessee's fireplace needs since 1981,  from their Cookeville location since 1989, Custom Fireplaces' 4800 square foot showroom boasts many beautiful working displays, and a dazzling array of the finest gas and woodburning fireplace products. Fran and Bob have combed the marketplace for the best of each class to offer you!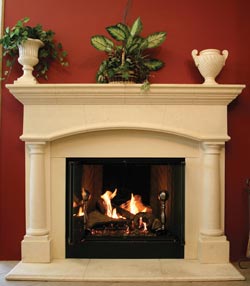 CUSTOM FIREPLACES OFFERS YOU THE WINNING COMBINATION!
With caring, knowledgeable, NFI (National Fireplace Institute) certified installers, factory-direct fireplace pricing, sound advice from "MA & PA" and a reputation you can trust, Custom Fireplaces offers you the winning combination. So whenever you need to know about fireplaces, just go ask "MA & PA." There are many websites from the various manufacturers of hearth products showcasing a dazzling array of products. Rather than offering you yet another website that is not much more than a glorified catalog filled with glamour photos of the many hearth products we stock and special order, the focus of our website is on what we feel makes our company stand out from the crowd - information you will need to know to help you choose the best hearth product for your needs! What's different about Custom Fireplaces & More?